HISTORY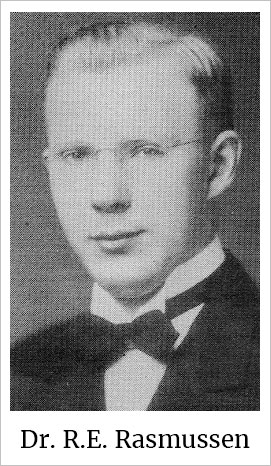 Clearview Animal Hospital was built by Dr. R.E Rasmussen in 1957. He had a dream of building his own animal hospital since he started practice in 1942 in the Bloomfield area as the only vet in the county. When the clinic was built it was the state of the art for a small town, rural practice. Although during that time period, food animal practice was considered more important then pet practice in a rural community.
Dr. Rasmussen was not the less far sighted enough to see the importance of pets in the future. The clinic was equipped with a new x-ray machine for the latest in diagnostics and 2-way radio for more efficient communication between farm calls.
Dr. Rasmussen was fascinated with the evolution of veterinary medicine from his father who started practicing in 1907, through his career from 1942-1994 and his son David who started in 1982 and continues to practice at Clearview Animal Hospital to this day.
Although he passed away in 2001, if Dr. R.E. Rasmussen was alive today he would still be fascinated with how the evolution in medicines, equipment and technology have changed the practice of vet medicine. He also would never have changed in his passion of caring for animals and the people they live with.